Regardless of the material or end product QC Forge produce unrivaled results. We have built an enduring reputation producing cost-competitive components that must survive the most demanding service applications, maintaining the exceptional properties of wrought product.
Our Unique Capabilities Provides You Advantages
Whether managing a complex supply chain or researching properties of new alloys, our unique capabilities allow us to:
Match the right equipment and design processes to get the optimum manufacturing outcome
Apply both internal and external design, combined with forging process research expertise
Apply a full range of impression die forging equipment to optimize metallurgical benefits for small components manufacturing. This includes:

Screw presses
Mechanical presses
Upset forging machines
Hydraulic press
Forging hammer
Solutions for a Range of Industries
Finished metal component parts made by Queen City Forging are used to meet the critical requirements of transportation equipment and a range of industries including:
Small aircraft components
Rail C&S
Diesel engine parts
Automotive power trains
Agricultural equipment parts
Heavy hinges
Valve components
Are You Ready to Forge the Unforgeable?
If you have a metal component manufacturing project, please allow our team of experts to explore solutions with you. You can start by telling us about your application or you can call us at 513-321-7200.
Contact Us About Your
Specialty Forging  Project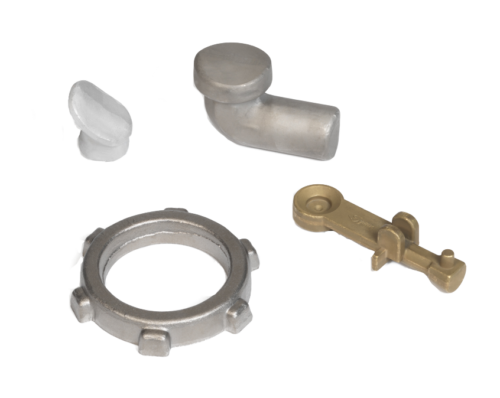 A History of Forging Success
We have had success working with high performance micro alloy, Ni strengthened, maraging, and stainless steels which are forged with special thermal handling operations to assure optimum metallurgical results.
We pride ourselves on our ability to successfully forge alloys designed for machinability that other shops turn away as unforgeable. Queen City Forging has developed special expertise in the utilization of its patented infrared aluminum heating process, improving the fatigue properties of aluminum alloys.
Masters of Forging Technology
Our success begins with our mastery of forging technology that is proven to:
Match durability with cost-effective techniques
Create a competitive advantage for our customers,
Find solutions to the biggest design challenges faced by leading manufacturers